Living in an urban area shouldn't stop you from aspiring to have a touch of green in your own home. Building a rooftop garden is a great option, but it's not for everyone. The truth is, there are very few people who have the talent to keep live plants thriving. And if you're one of those people with a black thumb, you're probably better off looking for artificial turf in Perth if you live in the area. Companies like Green Oasis Lawn and Reticulation can also help you find artificial turf for rooftop deck that best fits your needs.
Some people believe that when it comes to greeneries, anything artificial is harmful to the environment. But that's not entirely true. In fact, knowing how to install artificial grass on rooftop actually has its own list of benefits. Read on to learn more about them below:
Benefits of Installing Artificial Grass for Your Rooftop
It's Kid and Pet Friendly
The AstroTurf roof brand is an industry-leading producer of artificial turf. Their products are known for their tall-pile polyethylene turf with infill that's meant to mimic natural grass. They specialise in making artificial grass used in playing surfaces, which makes it an exceptional choice if you have pets or kids. Using this grass for your rooftop ensures countless hours of fun for your babies. The risk of falling over is low because of its anti-slip properties. On the off chance of someone falling over, the infill serves as a cushion and provides impact protection.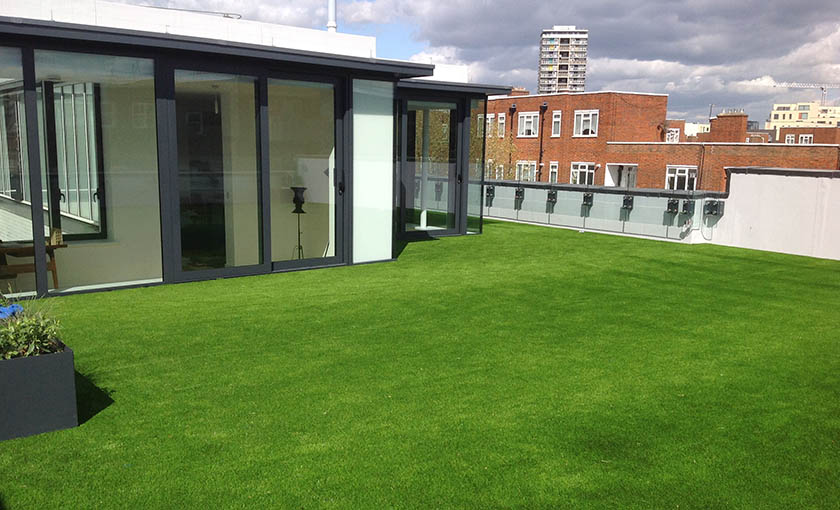 It Provides Extra Insulation
Did you know that installing synthetic grass for your rooftop can help cut down your heating bills? An artificial lawn on your rooftop has an insulating effect that reduces the amount of heat that escapes. If you live in a warmer area in the city, artificial grass will keep your home cooler because it absorbs the heat outside.
Artificial Grass Roof Drainage Makes It Easy to Clean
The most cleaning you will do with a well-draining artificial grass is using a brush with mild soap, then occasionally hosing down the area with water. If you are installing a pet potty area, you can just reach out to the manufacturer for cleaning products they can recommend to manage bacterial growth and odour.
Artificial Grass for Rooftop Always Looks Great
When grass dries out for any reason, they turn yellow or brown. Artificial grass doesn't fade and will stay the same colour it came in for years or even decades. This also means that you don't have to replace it for a very long time, which in the long run, actually makes it more eco-friendly.
Using Grass for Rooftop Adds a Unique Look
Even the most boring roof deck will turn into a magical and charming resting spot once you install artificial grass. Having an isolated green space on your roof is like having a secret gate to a fantasy land in the middle of a concrete jungle. You can just imagine the look on your visitors' faces when you take them to your private garden for the first time.
Fake Grass for Rooftop Is Less Expensive
In a perfect world, growing plants is easier and cheaper. But, we live in the real world where garden care costs can go really high, especially if you place your garden on your roof. Just the risk of water damage to your roof deck is enough to give you second thoughts about it. Fake grass doesn't pose that same risk. For one, it doesn't require watering except for the occasional cleaning. It is also much lighter than living plants, which require soil in deep planters. This helps prevent early deterioration of your roof.
Using artificial grass reduces your roofing repair and maintenance costs in the long run because of this. It allows you to save for other beautification projects you have in mind. You can even use synthetic grass inside your home if you want. There are several tutorials online on how to do so.
Although installing synthetic grass is pretty easy and straightforward, it's still better to have professionals do it for you. Aside from them knowing the product better, they also have the necessary tools to cut it into shapes and sizes that better fit the dimensions of your rooftop. You also don't have to do all the lifting, which is good because who wants to carry rolls of grass all the way up to the roof deck, right?
Get Artificial Turf for Your Rooftop Deck
If you're interested in buying and installing artificial grass on your rooftop, get in touch with Green Oasis Lawn and Reticulation. We offer professional artificial lawn installations in Perth. If you're still undecided, we will be more than happy to discuss your other options and answer all your questions. We look forward to hearing from you!