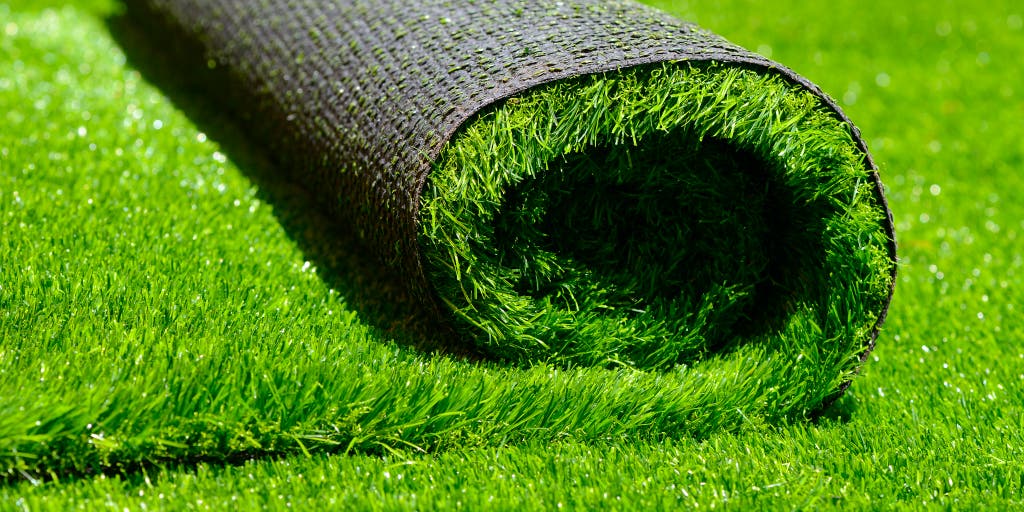 One of the biggest advantages of synthetic turf is the amount of care required, which is way less than maintaining a natural lawn. You don't have to water, fertilise, or mow it. However, that doesn't mean that you can just install it and forget about it. Like any other material, it requires cleaning and maintenance. One common thing owners want to know is the best way to clean artificial grass from dog urine and poop. This blog from Green Oasis Lawn and Reticulation will answer this question and any other question you may have about your artificial turf in your Perth based home.
The directions for cleaning artificial grass is fairly easy. This guide is created specifically for pet owners, but all fake lawn owners are free to follow it. You can check the steps out below:
How to Clean Artificial Turf
Remove any debris (dust, dirt, leaves, and dog poop)
Now, before you ask, 'can you vacuum artificial grass?', we'll just go ahead and say yes, you can. However, you need to make sure you check with the manufacturer first before you start vacuuming. You don't want to end up ruining your vacuum cleaner and shredding your grass to pieces because you forgot to ask. Vacuuming should get rid of the dust and dirt. You can use a broom with stiff bristles or a flexible lawn rake for the dry leaves.

But what about dog poop? Learning how to clean artificial grass from dog poop is actually as easy as getting rid of dust, dirt, and leaves. You simply need to scoop the poop up and toss it in the bin. Always clean up as soon as your pet does its business, because it's always easier to clean fresh dog poop. Once you get rid of the faeces and other debris, you can proceed to the following steps below.
Prepare Your Artificial Grass Cleaner
Even if you asked your installer to add an antimicrobial layer to your synthetic turf, you still have to use an artificial grass cleaner periodically to get rid of the things that the antimicrobial layer can't get rid of. Make sure you use a product that's made specifically for the type of grass you have. Ask the manufacturer about the best artificial grass cleaner for pets to ensure your fur baby's safety. Spray in on your grass and let it soak for the prescribed amount of time.
Hose Down the Area
Pay special attention to the corners so dirty water won't collect anywhere and become a breeding ground for bacteria or mosquitos.
Air Dry
Repeat
The best way to clean artificial grass from dog urine is by cleaning it in sections. Simply do steps 1-4 and repeat for every other section in your artificial lawn.
Using an Artificial Turf Cleaning Machine
When other synthetic lawn owners say they had an artificial lawn installed because they don't have the time to maintain it, they actually mean that they have zero to little time to spare for cleaning. For these people, using an artificial turf cleaning machine is the best option. An artificial turf cleaning machine has a tank that can be filled with litres of cleaning solution, so you don't have to use a separate container for mixing. It's like a vacuum that sprays the solution then sucks the dirty water out for easier disposal.

Pros and Cons of Using an Artificial Turf Cleaning Machine
An artificial turf cleaning machine has wheels, so no lifting is required. It can clean in both directions and can easily rejuvenate any flattened grass blades, so they look new. Normally, these machines have detachable roller brushes, so you don't have to clean them under the machine.
The only downside to buying an artificial turf cleaning machine is its price. Prices can go as low as hundreds of dollars up to tens of thousands, depending on size and power. But, you have to remember that this is because you're paying for convenience. You're also cutting down your cleaning time in half, and for busy people, that's a fair trade-off.
Whether you want to do it the traditional way or with newer technology, one thing's for sure; your artificial lawn will stay presentable for longer if you take good care of it. But, if both options aren't practical for you, you still have one other choice. You can just hire artificial lawn cleaners to take care of your synthetic turf.
Quality Artificial Turf in Perth
Now that you know how practical it is to have an artificial lawn installed in your home, start shopping around for your options. Get in touch with Green Oasis Lawn and Reticulation for more information on the low-maintenance synthetic turf brands that they offer. We are happy to be of service to you.