Trusted Lawn and Reticulation Expert in Perth
Take care of your outdoor space by leaving lawn care to the professionals. Choose Green Oasis Lawn and Reticulation, your trusted lawn specialist in Perth.
The Lawn Specialist You Deserve
Welcome to our world of impeccable lawn care! As top-notch lawn specialists, we at Green Oasis pride ourselves on delivering exceptional services tailored to your unique needs. Our highly skilled team will transform your yard into a lush, vibrant sanctuary that you'll be proud to showcase. From meticulous mowing and fertilisation to advanced weed control and aeration techniques, we ensure your lawn stays healthy and beautiful all year round. Let us take the hassle out of lawn maintenance and give you the stunning outdoor space you deserve.
Your One-Stop Reticulation Expert in Perth
Discover the ultimate watering solution with Green Oasis' top-rated reticulation services. As leading irrigation specialists, we're dedicated to creating customised, efficient, and sustainable reticulation systems that cater to your garden's specific needs. We combine cutting-edge technology with years of experience to design, install, and maintain watering systems that ensure your plants thrive while conserving water. Say goodbye to manual watering and uneven plant growth – let us optimise your garden's potential with a seamless reticulation system tailored just for you.
Here's a comprehensive range of services provided by Green Oasis Lawn and Reticulation, designed to cater to all your lawn care and irrigation needs.
Green Oasis has installed lawns for various commercial and residential areas around Perth. As lawn experts, you can trust that our instant lawn installation services, which include site preparation, grading, topsoil installation and sod installation, are all you need to have the outdoor space you want.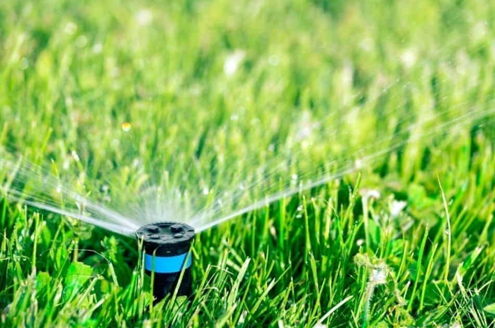 As a trusted reticulation expert in Perth, we can provide you with comprehensive reticulation system services, including but not limited to handling inspections, adjustments and repairs. Our lawn specialists use the latest tools and equipment to install your system, which is sourced from high-quality and trusted manufacturers.
Need a beautiful outdoor space but are not willing to put in the time and resources to maintain it? Invest in a stunning lawn with synthetic turf. Our lawn specialists use high-quality artificial grass that gives your garden, sports field or playground a breathtakingly beautiful appearance year-round.
Keep your lawn looking healthy and lush with regular mowing. Make Green Oasis your go-to lawn specialist when it comes to handling all your lawn mowing and gardening needs. We do more than push a lawnmower around. We take in factors like cost, lot size and personal preference to give your outdoor space the care it deserves.
Bring back your lawn to its green and lush glory with lawn restoration services from lawn specialists like Green Oasis. We use our years of expertise to provide custom lawn care programs and improve the overall look of your outdoor space. Our team does it all – all you need to do is call.
There's nothing quite like the feeling of the sun on your face while walking barefoot through the soft grass. Get your lawn in tip-top condition with our choice grass varieties. Turn to us for low-maintenance grass types or more budget-friendly lawn options and we'll help you get that luscious green landscape for your property.
Landscaping services that will breathe new life into your property
We are a team of dedicated turf and irrigation professionals with over 15 years of experience. A family business, we are passionate about our work. We strive to provide a uniquely personable service built on excellent client relations and unparalleled attention to detail.
Which lawn is the one for me?
For more information on turf,
click here
to see our turf information pages or contact us via email, phone or live chat to chat with one of our friendly turf professionals!