Couch Grass: A Hardy Choice for Perth Outdoor Spaces
Scientific name Pennisetum clandestinum, No grass matches the rigours of the Australian climate as well as Couch grass does. A favourite among homes and business owners alike, Couch grass gives you a brilliant, dark green colour all year and tolerates droughts well.
Green Oasis installs Couch turf on residential and commercial properties in Perth and the rest of Australia. We'll help you achieve the soft green scapes you want for your lawn.
Couch turf (pronounced 'cooch') is a popular warm-season grass variety in Australia, thanks to its high drought tolerance and soft underfoot. It's one of the toughest turf varieties, and it's used for playing surfaces in stadiums and golf courses. It repairs itself quickly, so Couch grass is ideal for backyards and lawns with high foot traffic. If you have kids, pets or customers who love to walk on grass, Couch turf is ideal for you.
It's easily distinguished from other grasses because of its dark green colour, which it maintains throughout the year (even in the winter). Moreover, it has fine leaf blades that make it soft to the touch. It's no wonder that Couch grass is a staple in the Aussie backyard.
Couch grass has a deep root system, which enables it to draw much more water from the soil. As such, it is more drought-tolerant than other turf varieties. It loves the sun, so it will take a lot for it to wilt. And if it dried off because of the lack of water, it will easily recover.
If you live in an area with water restrictions, or if you prefer a water-efficient turf, Couch grass is an excellent choice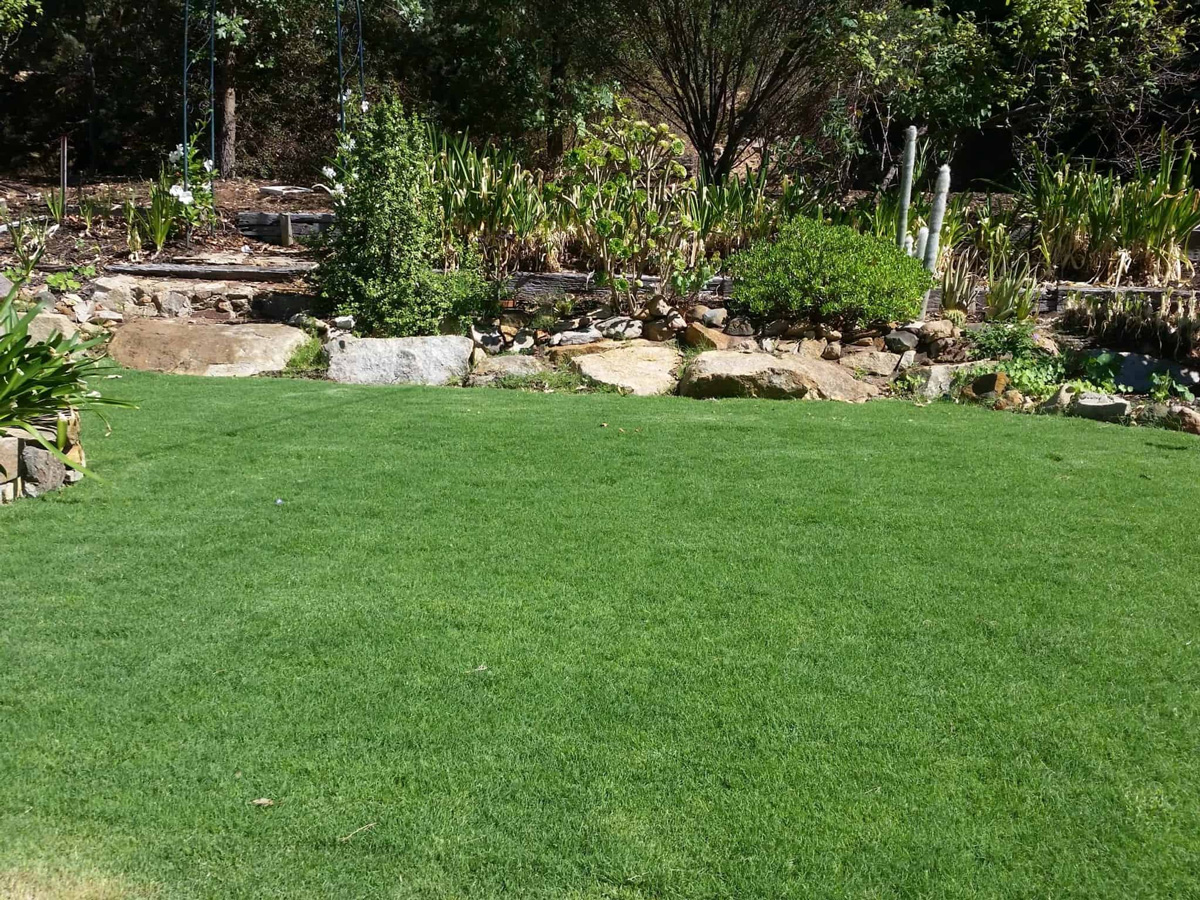 Couch grass develops a moderate thatch layer (a layer of living and dead stems, leaves and roots between the growing blades and the soil), which serves as a protective layer. As such, Couch grass withstands wear better. It can handle high traffic and recovers quickly if it's worn down and stressed.
Colour. The distinguishing trait of Couch grass is its dark green colour, which it maintains no matter the season. It looks healthy, even if it lacks water or nutrition. Some observe that it still has this rich hue even if it's planted in poor-quality soil.
Density. Couch grasses also have a finer leaf blade compared to other types of turf. As a result, it offers dense coverage, while remaining soft to the touch. The delicate leaf blades also prevent water evaporation — another trait that makes it drought-tolerant
Mowing. Couch grass has more of a horizontal growth, which means its vertical growth is not as aggressive as other lawn varieties. You don't have to mow as much.
Watering. Newly laid Couch grass needs deep watering once a week, while it grows its grass. Once it has established its root system, you only water as needed.
Fertilising. Couch grass is resilient, so it doesn't need much fertiliser. You may fertilise every 10-12 days
Couch Grass with Green Oasis
Our professionals will help you choose the best Couch cultivar for your property. Some cultivars are bred to adapt to shade and resist diseases. We'll walk you through your options, as well as the level of maintenance each type requires. We'll also select the Couch cultivar that meets your budget.
Green Oasis offers both lawn installation and lawn reticulation in Australia, so we can furnish your lawn with Couch grass and let you enjoy soft, dark green grass throughout the year. Get a free quote today!
Green Oasis Is the Couch Grass Expert
15+ Years of Experience
We have over 15 years of experience in Couch turf installation and irrigation.
Family Business
We are a fully qualified and insured family business.
Post-Installation Care
We offer free mow, fertiliser and wetting agent application after installation.
Free Consultation
You'll receive professional Couch grass consultation for your property.
Frequently Asked Questions (FAQs)​